Oral piercings, such as those found in the lip and tongue, allow us to express ourselves and showcase our unique style. However, these piercings are different to ear piercings as they carry higher health risks, including the potential to cause infection and damage to the mouth.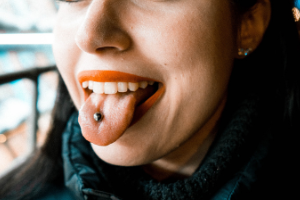 How do piercings affect our oral health?
Infection, pain and swelling: The mouth is a warm, moist environment that contains millions of breeding bacteria. The shape of the piercing also means that food can get stuck around it and it is often difficult to clean. All the above contribute to why there is an increased risk of infection around the piercing. 
Damage to gums, teeth and fillings: depending on where the piercing is located, metal piercings may rub against the gums, causing them to recede. If the piercing is in contact with teeth or a filling, they can also damage the fillings and cause tooth wear.
How to look after your oral piercing?
Keep your piercing clean: use a mouth rinse after meals and remove the piercing every night and brush it like you would your teeth.
Avoid contact of the piercing with your teeth and gums.
Remove your piercing during sport and wear a mouthguard to protect your mouth.
Visit your dentist regularly for a check-up and let them know if you are feeling pain, swelling or notice redness around the piercing.
Ultimately, having a piercing requires a significant amount of maintenance and care. It has multiple negative side effects on the health of the mouth and should not be taken lightly. For advice and more information on piercings and your oral health, talk to your dentist.
The team at Mason Square Dental is happy to answer any questions you have –
book online now
or feel free to call us on (03) 9370 9118