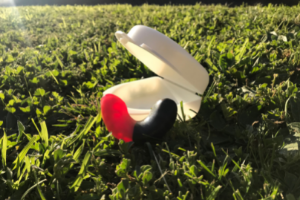 When it comes to protecting your teeth and mouth while playing sport, a mouthguard is an essential piece of protective equipment to include in your sports bag.
Mouthguards are traditionally required in all contact sports (football, basketball, hockey), but are increasingly being recommended in traditionally non-contact sport, as we know that accidents can happen quickly and result in damage to the teeth and mouth.
A properly fitted mouthguard may absorb heavy impacts on the neck and jaws.
Which mouthguard should I get?
The best mouthguard to have is a custom made one that fits snugly and comfortably to your teeth. Your dentist or lab technician will take a mould of your mouth and form the mouthguard using these models. 
If this is not an option, then one purchased from the chemist or sports shop can be moulded in your mouth to create a comfortable fit. This is done by first placing the guard into boiled water to soften it. Then placing the softened guard into the mouth so that it can mould around the shape of the teeth and gums. These are a good option when a child has a mixture of permanent and baby teeth. This is because in an ever growing and changing mouth, several mouth guards may be needed, possibly in a single season alone.
A mouthguard is especially important for anyone with braces, as a blow to the face can cause lacerations to the cheeks from the wires and brackets. These can be a bit trickier to mould but your Orthodontist can provide you with some handy tips.

How to take care of your mouthguard:
Rinse before using.

After each use, rinse and brush with toothbrush and toothpaste.

Keep it dry between each use.

Store and transport in a sturdy container, preferably one with vents to allow air flow as this will help keep it dry and stop bacteria from growing.

Check it regularly and replace when there are signs of wear and tear.
The team at Mason Square Dental is happy to answer any questions you have –
book online now
or feel free to call us on (03) 9370 9118