What are the signs of tooth sensitivity?
If you feel a short, sharp pain to cold, hot or sweet foods, you are likely to be experiencing tooth sensitivity. This pain usually disappears straight after the exposure. If the pain is still present after a while, it may be an indication of tooth decay.
What causes this sensitivity?
Tooth sensitivity occurs when the outer protective layer of the tooth is lost, exposing the inner layer of the tooth, known as the dentine.
The outer layer of the tooth can be lost through multiple ways…
Tooth grinding in the evening or daytime
Tooth erosion due to consumption of acidic food/drink
Gum recession
Developmental conditions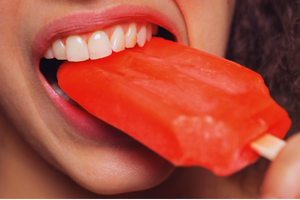 Management
Visit the dentist for an assessment
As tooth sensitivity can be caused by a number of factors, it is important to visit a dentist to determine the cause and appropriate treatment. For gum recession, the dentist may put a layer of fluoride over the exposed tooth to reduce the sensitivity. However, if the sensitivity is due to decay or a broken-down filling, dental treatment will be required.
Home care
The dentist may recommend that you brush your teeth with a desensitising toothpaste. These toothpastes contain ingredients that protect the tooth or temporarily block the pain signal. Examples of desensitising toothpastes are Sensodyne and Colgate Sensitive pro-relief. 
Prevention
Ultimately, we want to prevent tooth sensitivity altogether. Good oral hygiene including brushing twice a day and flossing daily, as well as limiting sugary and acidic foods are important for preventing tooth sensitivity.
The team at Mason Square Dental is happy to answer any questions you have –
book online now
or feel free to call us on (03) 9370 9118